You viewed
Compare Items
You may select/check up to 5 items to compare

Whether training or exploring, Suunto has a watch for you. As your Factory authorized Suunto dealer, we offer Genuine factory replacement watchbands. We carry leather and composite straps for popular models: Yachtsman, Metron, and X-Lander. Rubber watchbands are available for Observer, Vector, S6, N3, X6HRM, X6HR, and many more. Titanium and Steel bands are available for the Observer. The biggest selection of Genuine replacement watchbands that you`ve ever seen!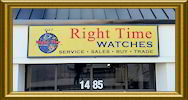 Models designated on this page with status "in stock" from SUUNTO brand are available for your viewing pleasure on display at Denver Central store.
Please, visit our store(s) to try one on, fall in love and take it home with you. If you don't see a model you were looking for on this page, as a SUUNTO Authorized dealer, we will be happy to special order it for you. See store manager for details or call us at Toll Free 877-470-8463 (303-691-2521) or e-mail
You may visit the factory here
Call Us Toll Free 888-846-3388
© 2017 Righttime.com, Inc.