INTERNATIONAL WATCH CENTER
Highlands Ranch Store: 7110 E. County Line Road, H.R. CO 80126
(303)862-3901 fax (303)862-3905

Denver Store: 1485 S. Colorado Blvd, Denver CO 80222
(303)691-9658 fax (303)782-9316

Toll Free 888-846-3388
E-mail Mail@RightTime.com
RightTime.com

is a web division of Right Time International Watch Center (Watch Concepts, LLC), that has been in fine timepiece business since 1979. Our company is devoted completely to all phases of time products. With our large and knowledgeable sales force, and five watchmakers on the premises, we offer you an unmatched level of personal and professional service in the state of COLORADO. All timepieces displayed on our WEB site are part of the inventory found in our 2 showrooms: Original store is located in the center of sunny (over 300 days of sunshine) Denver, Colorado and our new FLAGSHIP STORE is just a mile west of Park Meadows shopping district of south suburb - Highland's Ranch, Colorado. with the lowest sales tax rate of only 5.1%
We encourage you to visit both stores, as each store carries a different selection of watches and brands, but if you can't visit our stores in person, with reliable help of UPS, we can deliver any item to your door at any part of the world.
Visit our two convenient locations: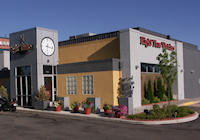 7110 E. County Line Road
(South-West corner, enter 1/2 block West of Quebec Street)
Highlands Ranch CO 80126-3926
Serving South Metro customers at this location since 2007
Store hours: Mon-Fri: 10:00 - 18:00(6:00PM); Sat: 10:00 - 17:00(5:00PM)
Mountain Right Time (or MST as some people call it)
Sales: (303)862-3900 ; Service: (303)862-3901 ; Fax: (303)862-3905
Please take a moment to make a
virtual tour
of our Highlands Ranch Flagship store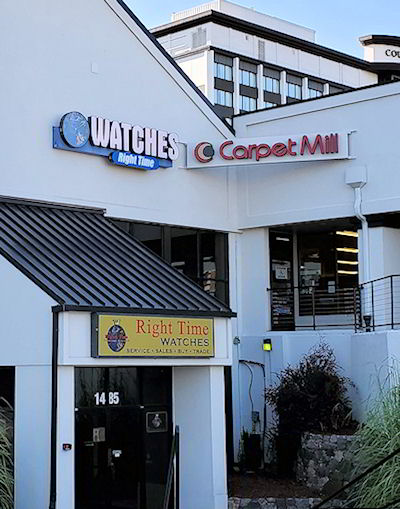 1485 S. Colorado Blvd.
4 Blocks North of I-25, Northwest corner
of S.Colorado Boulevard and Florida Street
Denver CO 80222
Serving Denver clients at this location since 1986
Store hours: Mon-Fri: 10:00 - 18:00(6:00PM); Sat: 10:00 - 15:00(3:00PM)
(303)691-9658 fax (303)782-9316
Please take a moment to make a
virtual tour
of our Denver store
Sales: The Art of "Watch Matching"
Our strength is taking time to match a time piece to its new owner. As a matter of fact, you can give us some specific details about your lifestyle, watch needs, and a price point, and we will be happy to e-mail you our recommendation. We strongly feel, that watches must be presented with a personal emotional connection, maybe a personal story, a history, or they will become nothing more than a trading commodity.
We offer a great selection from over 40 Major Watch Brands (an AUTHORIZED DEALER for every one of them) from all over the world: Accutron Watches, United States; Alexander Shorokhoff Watches, Germany; Alpina Watches, Switzerland; Armourlite Watches, International; Ball Watches, Switzerland; Belair Watches, United States; Bremont Watches, Great Britain; Bulova Watches, United States; Casio Watches, Japan; Citizen Watches, Japan; Corum Watches, Switzerland; Cuervo Y Sobrinos Watches, Switzerland; Frederique Constant Watches, Switzerland; Graham Watches, Switzerland; Grand Seiko Watches, Japan; Hamilton Watches, Switzerland; Junghans Watches, Germany; Laco Watches, Germany; Luminox Watches, Switzerland; Maurice Lacroix Watches, Switzerland; Meistersinger Watches, Germany; Michele Watches, United States; Mido Watches, Switzerland; Mondaine Clocks, Switzerland; Mondaine Watches, Switzerland; Movado Watches, Switzerland; Muhle Glashutte Clocks, Germany; Muhle Glashutte Watches, Germany; Oris Watches, Switzerland; Perrelet Watches, Switzerland; Rado Watches, Switzerland; Raymond Weil Watches, Switzerland; Reservoir Watches, France; Seiko Core Watches, Japan; Seiko Luxe Clocks, Japan; Seiko Luxe Watches, Japan; Shinola Watches, United States; Sternglas Watches, Germany; Timex Watches, United States; Tutima Watches, Germany; U-Boat Watches, Italy; Victorinox Swiss Army Watches, Switzerland; Zeitwinkel Watches, Switzerland; Zodiac Watches, Switzerland; and many more in our New Watches & Clocks departments. Because we are an Authorized Dealer for all of the brands, you will get a FULL FACTORY WARRANTY (from 1 to 5 years) on EVERY watch we sell.
Furthermore you can find Colorado's Largest selection of rare Antique or Modern slightly used (but never abused!) watches from our Pre-Owned Watch Collection - names like Rolex, Omega, Cartier, Breitling, Panerai, Audemars, Hamilton, Illinois and hundreds others backed up by an unmatched after sale 12 months limited warranty.
Be assured that you will always get the RIGHT watch, at the RIGHT price, from the "RIGHT TIME"!
Another great strength of our store is an expert, state-of-the-art S. Colorado Blvd. and E. County Line Road service departments with 5 watchmakers having over 150 years of combined expertise - three Certified in Europe and one AWCI certified. Our Watchmakers are uniquely qualified to restore your favorite timepiece from 17th century pocket watch to a modern day kinetic. Our repair facility has been approved by Seiko, Bulova, Citizen, Tag Heuer, Tutima, Muhle Glashutte, Rado, Omega, Tissot, Longines and many others. We are a Factory Authorized repair center in US for Muhle Glashutte, Tutima, Jean Marcel and Nivrel brands. All repairs carry 12 month limited warranty. We welcome your repairs for a written/phoned estimate. We offer a Water Resistant Package - an exclusive service for diver's watches. We can perform Dial restoration, crystal cutting, complete Case and Bracelet refinishing, sand blasting or any other original finish in a separate polishing room, and old parts restorations or manufacture new parts if needed.
Perhaps grandpa's old heirloom can be brought back to life after every one else said: "can't get parts"; and now you could proudly hand it down to a new generation!!!
To send us your watch for repair/estimate, follow these steps:
Click here to Print Your Repair Form & Shipping Label
Please describe the problem in as much detail as possible
Include your repair form in the box when shipping
Cut out the shipping label and affix it to your package securely.
We recommend that you send your watch to us via any method that allows you to both insure and track the package
Please do not ship your watch in its display box, as it is impossible for us to keep your watch and its box together due to the volume of watches we handle per week
After receiving and inspecting your watch we will contact you over the phone you provided in your form and/or send you a written estimate by e-mail or to the fax number entered in your form
Your watch will be returned via UPS to the physical shipping address you provided. A signature will be required for items over $200 when your watch is returned to protect your valuable possession.
All watches shipped out from us are subject to a shipping and handling charges, unless under warranty
Please call or
e-mail
if you have any questions about sending your watch to us
Please ship your watch to:
RT Repair Department
7110 E. County Line Road
Highlands Ranch, CO 80126
USA
Phone:
(303)862-3901
Fax:
(303)862-3905
E-Mail:
mail@righttime.com
Thank you for a cyber visit and don't hesitate to drop me a line

call to chat (888)846-3388, or, better yet, come in and see it all for yourself.
Friday, June 27, 1997 (Date we started our e-business on world wide web)

To all of our friends, watch lovers and watch addicts: don't forget to mark your calendars for the last weekend in September, to visit our County Line store for an annual "Watch Affair" spectacular!