You viewed
Compare Items
You may select/check up to 5 items to compare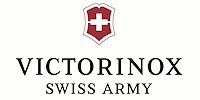 In 1891, the Original Swiss Army Knife was created in the small village of Ibach, Switzerland. Since that time, Victorinox has become well-known in more than 100 countries for precision, quality, functionality and versatility.
This century old heritage has been extended to Swiss Army Watches, which reflect the ingenious design and outstanding durability we`ve come to stand for over the years. Uncompromising craftsmanship makes these watches worthy to carry the "cross and shield" emblem that symbolizes the legend of Victorinox and the Swiss Army Brand. Whether you`re going around the corner or around the globe, our classically styled watches will make sure that you`re equipped for life`s adventures. No matter what those adventures might be.
Authenticity: If it does not say Swiss Army on the dial, it is not a Swiss Army Brand watch. Only watches authorized by the Swiss government to carry the name "Victorinox Swiss Army".

Official Factory Authorized SWISS ARMY Dealer. Take a peek at Swiss Army window display in our showroom! All original factory warranties (3 years) apply!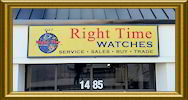 Models designated on this page with status "in stock" from VICTORINOX SWISS ARMY brand are available for your viewing pleasure on display at Denver Central store.
Please, visit our store(s) to try one on, fall in love and take it home with you. If you don't see a model you were looking for on this page, as a VICTORINOX SWISS ARMY Authorized dealer, we will be happy to special order it for you. See store manager for details or call us at Toll Free 877-470-8463 (303-691-2521) or e-mail
As a full service Authorized dealer, our wrist watch band department stocks some of the most popular original Genuine SWISS ARMY replacement watchbands and you can see entire inventory on our site dedicated strictly to watchbands at
WatchBandsOnline.com
You may visit the factory here
Call Us Toll Free 888-846-3388
© 2023 Righttime.com, Inc.