You viewed
Compare Items
You may select/check up to 5 items to compare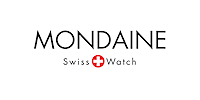 In 1944 Hans Hilfiker designed a clock that ensured the synchronization of the entire rail system which furthered Switzerland`s image as the most punctual country in the world. Based on Hilfiker`s classic design, Mondaine`s original watch and clock collection has been named as one of the ten classic watch-making designs of Switzerland.

RIGHT TIME International Watch Center is an Official Factory Authorized MONDAINE Dealer. All original factory warranties apply! Check out MONDAINE watches showcase in our Denver showroom.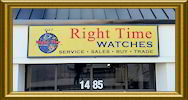 Models designated on this page with status "in stock" from MONDAINE brand are available for your viewing pleasure on display at Denver Central store.
Please, visit our store(s) to try one on, fall in love and take it home with you. If you don't see a model you were looking for on this page, as a MONDAINE Authorized dealer, we will be happy to special order it for you. See store manager for details or call us at Toll Free 877-470-8463 (303-691-2521) or e-mail
June 23rd 2009 marked celebration of the first Mondaine GPS clock arrival in USA inside the Boston Logan International Airport. A staple of Swiss travel, the Mondaine clocks can be found in train stations and airports throughout the Switzerland. The GPS-controlled Mondaine clock that has been permanently installed at the airport was part of the exhibition dedicated to the Science of Watchmaking and Time. It is placed in the international terminal above the Flight Information Display System. In Switzerland, 3,000 of these famous Swiss clocks have indicated the precise time at all Swiss train stations for more than 60 years.
For more than 10 years, Right Time has supplied these superb Swiss clocks to many of the top US Hotel chains and business, so don`t be surprised to see Mondaine Swiss Railway clocks at the lobby or meeting room of the Westin hotels, Swiss bakery and etc. Call Rita at 888-846-TIME to arrange a purchase order for your hotel chain and proudly display examples of the Swiss finest.
RIGHT TIME is the Official Factory Authorized MONDAINE Railway Clock Dealer.
Call Us Toll Free 888-846-3388
© 2022 Righttime.com, Inc.