ABRAHAM-LOUIS PERRELET, born 9 January 1729 in the mountains of the Neuchatel, spent years developing system that would replace the task of winding one`s watch every day. He kept on innovating, and applying his intelligence, imagination and clear sightedness and he completed a series of new techniques destined to improve the running of timekeepers. Around 1770, he embarked on finding an absolutely simple yet effective solution to wind a watch that was, unbeknown to him at the time, going revolutionize the world of watch making. He was the first to develop a rotating, oscillating weight or a rotor, mounted on the movement that follows the motions of the wearer and winds the mainspring of the watch. His invention was officially recognized in 1777. Harnessing the natural energy of the wearer brought Abraham Louis to his next invention. In 1780, he created the first pedometer, measuring the steps and distance while walking. He also became the first to manufacture a watch with an escapement, a cylinder escapement, a duplex escapement, and an equation escapement.
His legacy was continued by a grandson LOUIS-FREDERIC PERRELET who was watchmaker-mechanic to 3 kings of France - Louis XVIII, Charles X and Louis-Philippe and besides many gold medals he received for his watchmaking achievements, was elevated to the rank of Knight of the Legion of Honour in 1834.
In 1995, as a homage to the company`s founder, its engineers and watchmakers developed a key model in the Swiss watchmaking industry, the Perrelet "DOUBLE ROTOR" watch with one rotor on the dial side that is linked and perfectly synchronised with a second, housed beneath the mechanism.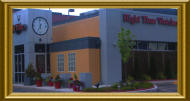 Models designated on this page with status "in stock" from PERRELET brand are available for your viewing pleasure on display at Highlands Ranch South store.
Please, visit our store(s) to try one on, fall in love and take it home with you. If you don't see a model you were looking for on this page, as a PERRELET Authorized dealer, we will be happy to special order it for you. See store manager for details or call us at Toll Free 888-846-3388 (303-862-3900) or e-mail
You may visit the factory here