Right Time is a full service watch center. Our seven (7) full time watchmakers working on premises have been trained all over the world and have over 180 years of combined watch expertise. We offer complimentary educated guesstimates of most repairs and like many small services, performed while you wait. However for a precise and final price of the complex repair, watch has to be left for few days, and partially dismantled, this service carries a fee, that would be included in later repair.
Battery Replacement
Right Time stores replace over 30,000 batteries a year! All batteries are guaranteed for at least one (1) full year - we use only the very best power cells on the market from Eveready (USA), Maxell (Japan) and Renata (Switzerland). We offer a variety of options with each battery change, from maintaining the water resistance to cosmetic cleaning.
If you think it is very simple to properly open and close every watch - this is our multi-thousand dollars case tools setup to do just that one process!
If you purchased quartz watch from Right Time, then the batteries are on us for life! We offer complimentary charging of solar (light powered) or kinetic models of watches, just give us at least 48 hours to get a full charge.
Water Resistant Package
Either one of our service centers (Denver or Highlands Ranch) are equipped with state-of-the-art water pressure testing machines by Swiss testing equipment giants - Witschi, Greiner, Sigma and Roxer (the last one can test watches up to 4,500 feet of pressure). We stock thousands of genuine factory caseback, crown, and crystal gaskets. This allows us to perform water resistance packages in just 2-3 business days.
Our water resistant packages includes:
Brand new fresh, usually "Energizer" (yes, the bunny...) power cell,
Cleaning of oxidized contacts,
Installation and lubrication of new gaskets,
Pressure test with results printout,
Light polish and cosmetic cleaning of the case and bracelet in a powerful, industrial grade ultrasonic cleaner.
Watchbands and Watchband Sizing
Our expert watchmakers would be happy to assist you in sizing your timepiece, whether it was purchased from Right Time or not. We have thousands of bands in stock, and can special order any band from the brands we carry. We have bracelets in stainless steel, two-tone, gold plate, rose gold plate and black PVD. We carry a variety of Speidel Twist-O-Flex bands. Right Time also has a giant selection of leather bands in any color you can imagine, made of genuine leather, lizard, ostrich, snake, python, crocodile and alligator (to name a few). We also have a large variety of rubber and silicone bands in all of the colors of the rainbow. We have an entire website dedicated to watchbands to help our out-of-town customers. Watches, bands and bracelets purchased form Right Time are installed and/or adjusted at no charge.
Watch Polishing and Refinishing
Right Time's expert watchmakers have the magic touch when it comes to refinishing watches. Let us transform your watch back to new, or as close as it can possibly be. A watch polishing can help bring new life to an oldie but goodie or just freshen up a modern timepiece.
Case and/or watchband bead blasting
Only at South store Right Time we have a very special bead blasting machine allowing our expert watch refinishing guru to do a precision, almost pinpoint blasting of a whole case or just a specific small area. Sometimes on a black PVD or DLC case or band, some finish will be scratched off or completely gone, so instead of replacing the whole case and/or band, we can come up with a creative, and sometimes even an artistic, solution to save the old part and give you a brand new look for a lot less time and money.
Mechanical Watch De-Magnetization
More and more we are seeing watches running fast due to being magnetized. We have magnets all around us in our lives, since we are constantly surrounded by technology. While modern watches do account for this and have some level of being anti-magnetic, some of the magnets are stronger than can be accounted for in watch. Vintage watches are especially susceptible to being magnetized. Right Time will demagnetize any mechanical watch free of charge.
Complete Maintenance
Right Time provides complete maintenance on most quartz or mechanical timepieces, regardless of age or complexity.
Mechanical watches, depending on age and manufacturer suggestion, should be serviced every three to five years. Our watchmakers will completely disassemble your watch, clean movement in 2 different cleaning machines, oil with up to 6 different oils. Worn parts are replaced with only factory genuine (when available), gaskets changed, watch than is regulated and timing adjusted, watch case and band is ultrasonically cleaned and polished. Water resistance tested and reports printed. Watch is than observed and tested on professional watch winder by the watchmaker for at least 48 hours.
We also provide service for worn out or misbehaving quartz watches. For this service, the optimal service path is determined on a case to case basis. If the movement is a high grade movement, it can be overhauled. Some lower grade movements have to be completely replaced.
All complete overhauls carry two (2) years Right Time limited warranty.
Service times vary based on complexity and parts availability from 2 to 4 weeks.
Just one of the samples of our work: Before...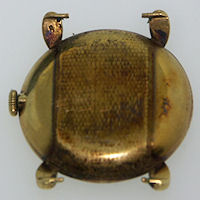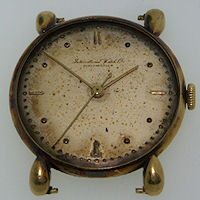 ...and After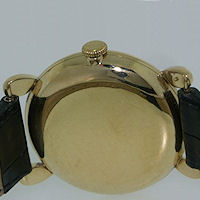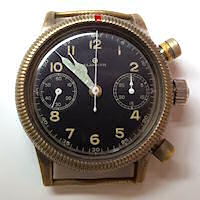 Partial Maintenance
In between complete services, watches might need a little TLC. Right Time watchmakers can provide that service. We can do regulations, crown, stem and/or tube replacement, pin and screw replacement, pusher replacement, crystal replacement, and many other partial maintenance services to keep your watch happy and performing optimally.
Service times vary based on complexity and parts availability from a few days to up to 2 weeks.
Mail-in Service
We encourage our out-of-town customers to send in their watches for service. You can use our Watch Repair form so that we expect your watches arrival. Once the watch arrives, you will receive an email confirmation of receipt, followed by an estimate.