You viewed
Compare Items
You may select/check up to 5 items to compare

The roots of this old instrument maker, originally named "Robert Muhle & Sohne" dates back to 1869. Fine mechanical tools, measuring instruments and Nautical timing devices have been traditional products at the House of Muhle. Robert Muhle & Sohne supplied all the firms in the region, like A.Lange, J.Addmann, Strasser & Rode, and others with fine measuring instruments for the watchmaking production. In 1995 the present head of the organization and Robert`s grandson, Hans-Jurgen Muhle, revitalized the old tradition and expanded Glashutte`s traditional product range of marine chronometer and ship clock fittings by adding a collection of precision mechanical wrist watches.
In today`s vast sea of brands, producing a fine watch is an important factor, but being a company that has just the right balance between a finest quality of their product and a family-like business relationship, conduct and not getting caught up in the corporate rollercoaster of the per-share performance for the stockholders, is even more important! As a family owned business it is still located in a small factory building at the heart of the German valley of time - 150 year old town of Glashutte in Saxony, near Dresden. We are fortunate in becoming a part of this family, this great organization that is capable of producing a fine quality watch and yet have a personal family care. This brand quickly became one of our best sellers! Check out Nautische Intrumente/Muhle Glashutte/SA showcase in our Denver showroom.

Official Factory Authorized MUHLE GLASHUTTE Dealer. All original factory warranties (2 years) apply!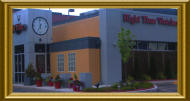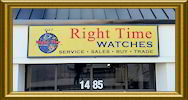 Models designated on this page with status "in stock" from MUHLE GLASHUTTE brand are available for your viewing pleasure on display at either Highlands Ranch South store or Denver Central store.
Please, visit our store(s) to try one on, fall in love and take it home with you. If you don't see a model you were looking for on this page, as a MUHLE GLASHUTTE Authorized dealer, we will be happy to special order it for you. See store manager for details or call us at Toll Free 888-846-3388 (303-862-3900) for Highlands Ranch South store or Toll Free 877-470-8463 (303-691-2521) for Denver Central store or e-mail
You may visit the factory here
Call Us Toll Free 888-846-3388
© 2023 Righttime.com, Inc.