In 1927, Dr. Ernst Kurtz headed a new German watch factory named UROFA-UFAG in Glashutte. The factory was devoted to production of superior quality pocket watches. This describes the beginning of the new brand of watches - TUTIMA. The word Tutima is derived from the Latin word "tutus" which means "safe" or "protected." The watches were built to withstand under any condition, earning the factory an excellent reputation and soaring production. Over 1000 employees worked at the factory before the WWII. One of the highlights of the early Tutima factory was the 1941 Flieger Chronograph watch. Over 30,000 units of the Flieger were produced for the German Air Force. Today, Tutima is headed by a former associate of Dr. Kurtz named Dieter Delecate. In 1986, the company won a NATO contract to supply the pilots of the German Air Force with a unique pilot`s watch model -Military Air Force Chronograph- beating other bigger names like IWC and Breitling during the testing phase.
While in the last few decades Tutima has been operating near Bremen, just a few years ago it returned to its hometown of watchmaking par excellence.
On May 12th, 2011, after three years of preparatory work, Tutima celebrates the official resumption of manufacture operations with a very special masterpiece from its own production. Never before has a timepiece embodying such technical authenticity been created in Glashutte.
Official Factory Authorized TUTIMA Dealer. Take a peek at Tutima window display in our showroom! All original factory warranties (2 years) apply!
Right Time`s Service Department is a Tutima Authorized USA Repair Center.
I`m not a bragging person, but how often does one wins a BMW Classic Motorbike -
WE DID!!!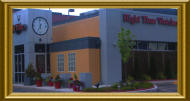 Models designated on this page with status "in stock" from TUTIMA brand are available for your viewing pleasure on display at Highlands Ranch South store.
Please, visit our store(s) to try one on, fall in love and take it home with you. If you don't see a model you were looking for on this page, as a TUTIMA Authorized dealer, we will be happy to special order it for you. See store manager for details or call us at Toll Free 888-846-3388 (303-862-3900) or e-mail
As a full service Authorized dealer, our wrist watch band department stocks some of the most popular original Genuine TUTIMA replacement watchbands and you can see entire inventory on our site dedicated strictly to watchbands at
WatchBandsOnline.com
You may visit the factory here