You viewed
Compare Items
You may select/check up to 5 items to compare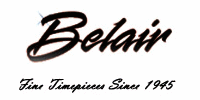 All Belair watches have been assembled in U.S.A from Swiss watch parts at the family owned and operated watch factory in Lakewood, NJ since 1946. One of the best watch values in the "everyday category" on the market today. The Grunwald family has developed a unique policy - they do not spend any money on advertising and leave all the promotion for the brand to the retailers, thus significantly reducing the final cost of their watches to the consumer. Alan G, President of Belair, believes that money is much better spent on new case or movement innovation and development. Belair`s cases are stronger and more durable, bracelets heavier and more resistant to wear, and packaging more elegant and luxurious than big brand name competition.

Why we sell Belair watches by Felix Zaltsberg, as it mentioned in Belair catalog.

Official Factory Authorized BELAIR US wrist watch dealer. All original factory warranties (3 years) apply!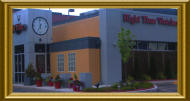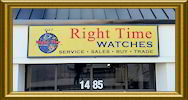 Models designated on this page with status "in stock" from BELAIR brand are available for your viewing pleasure on display at either Highlands Ranch South store or Denver Central store.
Please, visit our store(s) to try one on, fall in love and take it home with you. If you don't see a model you were looking for on this page, as a BELAIR Authorized dealer, we will be happy to special order it for you. See store manager for details or call us at Toll Free 888-846-3388 (303-862-3900) for Highlands Ranch South store or Toll Free 877-470-8463 (303-691-2521) for Denver Central store or e-mail
You may visit the factory here
Call Us Toll Free 888-846-3388
© 2021 Righttime.com, Inc.