You viewed
Compare Items
You may select/check up to 5 items to compare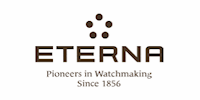 Eterna is a Swiss watch brand established in 1856 by Dr. Josef Girard and 28 years old Urs Schild in Grenchen, Canton Solothurn. In 1860 Dr. Josef Girard sold his shares to Urs Schild to give all his time to his profession of doctor. In 1870 company became official manufacture with the first in-house build watch. After Urs Schild death in 1882 the name Eterna appears on the pocket watch dial for the first time. Over more than 150 years of existence numerous major developments were produced by Eterna workshop. 1900s - Eterna filed for several patents including one for the world first wrist watch alarm clock which was serially produced after 1910. 1920s - cigarette lighter watch wounded by ignition mechanism. 1930s - production of wrist chronographs and watches with sweep second. 1948 - Eterna advanced self-winding watch technology with development of the Eterna-matic automatic movement which ball-bearing-mounted rotor became standard for automatic movements. 1950s - "Golden Heart" ladies watches with the world smallest automatic movement and "Kon Tiki 20". After that were "Eterna-Matix 300" the thinnest men`s watch with automatic movement, the smallest water-resistant watch with quartz movement, and many more...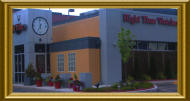 Models designated on this page with status "in stock" from ETERNA brand are available for your viewing pleasure on display at Highlands Ranch South store.
Please, visit our store(s) to try one on, fall in love and take it home with you. If you don't see a model you were looking for on this page, as a ETERNA Authorized dealer, we will be happy to special order it for you. See store manager for details or call us at Toll Free 888-846-3388 (303-862-3900) or e-mail
You may visit the factory here
Call Us Toll Free 888-846-3388
© 2019 Righttime.com, Inc.